From the Parish Council President
March 31, 2020
My fellow parishioners,
We are living in unprecedented times and everyone is trying to adjust the "new normal" of daily life. Your beloved Saint George Cathedral is no exception. Your Clergy, Parish Council, Ministry Leaders and church employees are all struggling to keep our faith alive anyway possible within the limitations of social distancing, isolation and quarantine. Here are some of the actions we've taken:
• Restricting access to Church services to only one clergy, one chanter and 1-2 Parish Council members

• Deep cleaning of Cathedral and other church facilities on a regular basis to protect our clergy and employees
• Installation of high-speed internet access to Cathedral and procurement of camera and audio equipment to allow for live broadcasting of services (in-process)
• Rescheduling of Greek Festival to August 28-30th, including working with all our vendors and suppliers
• NEW - Decision to sell some of our already prepared and frozen Festival foods (details to follow)
It is our intent to keep the Church office open and our employees working as long as possible subject to local directives. This leads me to an important topic—money. Without your continued Stewardship support and weekly donations, we are in danger of not meeting our day-to-day expenses. It costs approximately $2,200 per day to run our campus. This includes our utilities, supplies, employee wages and our allocation to the Archdiocese just to name a few. These do not go away whether we have services or not.
We desperately need individuals to continue to support us through whatever means necessary. That means continuing to pledge and pay your Stewardship as well as making additional donations to cover our collection tray funds. These donations can be made through checks, cash or the DONATE tab on our website at http://stgeorgegreenville.org/donate.
Finally, on behalf of the Parish Council, I want to wish you all continued thoughts and prayers for your well-being. Our faith and commitment to God will get us through this crisis and we will be stronger going forward.
Harry Zolides
Parish Council President
---
Worship Schedule
Sundays:
Orthros (Matins): 9:00 AM
Divine Liturgy: 10:00 AM
---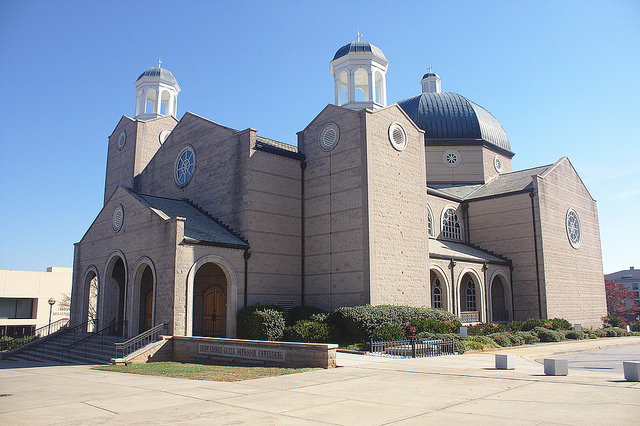 Upcoming Events
Akathist Hymn
Cathedral
Apr 3 7 pm
POSTPONED: District Oratorical Festival
Apr 4 12 pm
Orthros
Cathedral
Apr 5 9 am
Divine Liturgy
Cathedral
Apr 5 10 am
3 Yr Memorial: George Giannopoulos
Apr 5 12 pm
Catechism Class Online
Apr 5 1 pm
Monday Night Bible Study Online
Apr 6 6:30 pm
Please be sure to check the full calendar for more upcoming events!